Welcome to Sunset Studios & Apartments!
Welcome to Skiathos island and Skiathos Hotel, Studios & apartments Sunset. Our family operated complex is located in the heart of the famous Koukounaries area, only 5 minutes walking from the famous Koukounaries Beach and about 15 minutes walking to the rest of the magnificent beaches that surround our studios, like Maratha beach, Banana Beach, Agia eleni Beach, Krifi Ammo beach, Madraki beach, Elias and Agistros Beach. The bus terminal is only 50 meters away from our studios so going to Skiathos town is easy using the regular (every 15 minutes) bus service making the use of a personal car optional.
Koukounaries area is 12 km away from Skiathos town and is considered to be the most organized area of the island.
Within walking distances and only 30 -100 meters from our studios you will find Super Markets (30 m), Restaurants, Taverns and Bars.
Skiathos Sunset Studios swimming pool has a large surrounding green area that can be used as a playground and there is a snack bar serving breakfast, snacks and beverages all day long. Within our complex there is also a tavern that operates every noon and night for your lunch and dinner.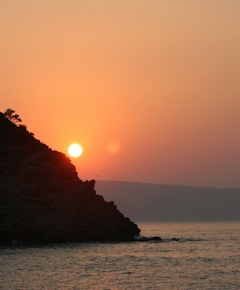 Explore Skiathos!
Distances from Sunset Studios & Apartments :
Skiathos JSI international airport (15km)
Skiathos Port (14km)
Nearest super market (50m)
Nearest Bar (30m)
Nearest ski school (160m)
Nearest restaurant (40m)
Neasrest bus station (50m)
Koukounaries Beach (200m)
Mandraki Beach (600m)
Elias Beach (700 m)
Banana Beach (600m)
Facilities
To all our guests we offer:
Free Wifi Internet
Free Satellite TV
Free Air Condition
Free Parking
And much more...
Sunset Studios & Apartments - Koukounaries - Skiathos Island - Greece